And we're very grateful to receive letters from satisfied customers…
Dear Marywade and Jon-
We just purchased three new horses for our ranch from you all. This makes a total of four horses from your place to ours. We will never buy horses from anyone else again! Within days of arriving each of the "new boys" was out on trails or showing without a single hitch or drama. We have had people from beginner daughter-in-laws to old ladies like me riding them. Their ground manners are perfect, they are responsive and trusting under saddle, they load and stand for shoeing without problem, they all love to be caught… I could go on and on. But most importantly, they are all unique, personable horses. As you know I tried to find horses local to us, but this meant going thru some really bad fits with horses that weren't what people said (and were dangerous!). Every step of the way the two of you worked to get the right horses to us. Thank you again for your "horse-sense" and really tireless work to make sure we ended up with Keepers. We love them!
Joanna Ellington, DVM
Spokane, WA

Hi Jon and Marywade,
Thank you so much for all that you have done to make the sale of Looksgoodinwranglers to me go so great. I know you probably didn't plan on having him this long before the transport could come get him, so if you need me to do anything for his board, just let me know. When I talked to Pamela the other day, I asked about buying a couple of bales of hay from you, but I did check with my feed store and they have a timothy/orchard type of hay that my vet said would be okay for him, so if you think that would do, that would be fine. I am so pleased and can't wait to get him home. I'm so excited I can't stand myself. I really enjoyed the time I spent with him and it was awesome getting to meet you and Jon. You are great people and I will recommend you to all my friends that might be looking for a horse.
Thank you soooooo much!
Take care.
Mary Horn Wood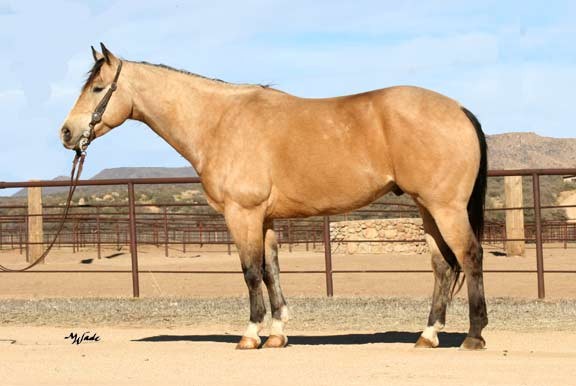 Hi Jon and Marywade,
Just a quick note to let you know that Wrangler (Looksgoodinwranglers) is doing awesome. He does everything I ask of him and has the best disposition of any horse I've ever owned. He is doing great on the trails and is really a wonderful horse. I'm so happy that I bought him and want to thank you again for all that you did to make everything go so well. All my friends ask where I got such an awesome horse, and of course I tell them if they want to get an outstanding horse, just to give you a call.
Thanks so much!
Mary Horn Wood

Hi Jon and Marywade, I've been meaning to send you an update on Charlie…We've been having a blast! We have joined the National and Arizona Versatility Ranch Horse Associations, met a great group of folks and are working with great trainers and working toward our Championship. We already have the points necessary for Trail and Ranch Riding and are working on the necessary points for Cutting, Conformation, and Working Ranch Horse.
Charlie has taken to cow work, he really enjoys it and is good at it. He has lots of try and learns quickly. I've attached photos of a recent versatility show, I believe we placed Reserve from the Intermediate Class.
Thanks again for your assistance in purchasing Charlie! I refer Horsebreakers every time I get the chance.
Take Care Becky Stockett Chexn in for Charlie

Hello, Buddy settled in wonderfully. He was laying down with in a few hours at our house on the first night. Our blanket fit him. He looks like a King in it. LOL. I took him out for a 3 hr ride. He never spooked at bags, trucks, atv's, etc. Coty our other horse, loves that he has a new friend except when it comes to feeding time. Its a hoot, Coty thinks Buddy is going to try to steel his feed; however, as soon as he as they both are fed they settle down real quick. We had him in the arena already with our friends and everything is great. Thanks so much for everything. As for the feed where do you purchase your's. I remember you said pellets, but what type again.?And the rice bran, where do you get that? Sorry so many questions. I just love the way his coat shines and really want to try to keep his diet the same.
Thank you again, you really have no idea how much he means to me.
Michelle

I just wanted to let you know that Dodger is doing great! He is such an awesome horse and the perfect fit for my husband and me. We ride him almost every day and he is adjusting to the heat and humidity in Houston. He arrived safe and sound – Equine Express took good care of him during the long transport. Dodger is already one of the favorites with the other horses and boarders and he has become best buddies with our other gelding. My trainer just loves him – he has such a great training foundation and perfect ground manners. Thanks so much for taking the time to let me thoroughly evaluate Dodger. I was certain when I left that night that he would be perfect but I wasn't sure how long it would take him to adjust to his new environment. He arrived on a Tuesday, by Thursday he was turned out with his pasture mates, and when I rode him at Friday he was a perfect gentleman. He is exactly as you described him – when he first arrived and was nervous he looked around a bit but he was always perfect when we were leading him or under saddle. Everyone keeps asking me where I found this wonderful (and beautiful) horse so I have been recommending you to quite a few folks. Thanks again for pairing us with such a wonderful horse!
Nancy Currie

Hi Jon and Marywade, Several people at the Versatility Ranch Working clinic, I participated in this last weekend in Camp Verde, approached me regarding Charlie. They noticed his brand. You folks are well known in the horse industry…in a good way! I wanted to share with you Charlie has been so much fun working cows! Not to speak of his respectful domineer on trail and the other required courses in the clinic and schooling competition. We had a blast and Charlie was a perfect gentleman! We had also attended the Mike Bridges clinics last October and this March which included 4 days of working cattle as well as working in the basal. He is so willing and has never denied me a request! It has been almost 3 years since I bought Charlie from HorseBreakers and I want to sincerely Thank You for allowing me to own such a wonderful animal! You guys have a great eye for beautiful and talented horses. I tell my story often! Wishing you guys the best!
Sincerely, Becky Stockett

Marywade – Slider is everything you described. We've only had him home a few days, but I've ridden him out alone, with another horse, taken him all over the place, done arena work, ridden him bareback, etc. What an outstanding horse. I'm taking a lesson this next weekend to try to learn to improve my riding rather than "tune him down."
I did put him in a Tom Thumb like you suggested and it was great. He couldn't be any gentler.
Thank you so much. If we lose our old gelding, we'll be back to see you.
Thanks again
Doris Wait

Hello!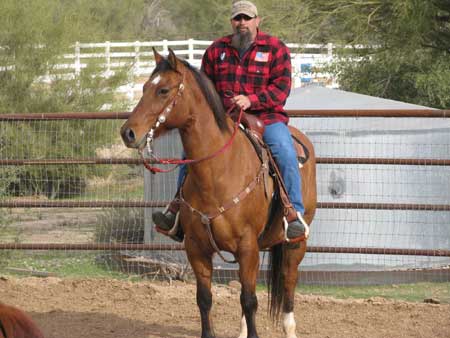 Happy New Year! Hope you guys had a nice holiday and enjoyed yourselves!
I just wanted to share with you I don't know what happened or if it just 'clicked' with Rick, but suddenly he's really been putting Tank through some stuff and the two are really working quite nicely together. Not sure if it was the lessons or that Rick finally stepped out of his comfort zone… or a combination of the two. But things are quite different. He's riding him A LOT and really enjoy's himself!
Needless to say I am so happy and they look really good together. You guys take care and stay warm up there! Talk to you soon!
Janette
Marywade: Of course you may use the letter. I really do love this horse. And like I said, I really appreciate your patience and encouragement. Stephanie

Hi, Jon and Marywade:
I want to thank you for your patience with me about Dun It On Stage. He is a great horse, just like you said.
I am thrilled with him and confident he is the horse I needed to get back to riding again. We have been out trail riding and he is perfect, never gets worried about anything. The other horses took off and he just kept right on walking. When they raced up behind him, he just kept right on walking. He is exactly what I needed. My daughters have been riding him when I don't so we're keeping him busy. I am planning to take some reining lessons on him so I know more about what he can do.
Rich still wants to come and get another horse from you so at some point in the future, I know we will be back for another good horse.
Thanks so much! Stage is wonderful!
Stephanie Robertson

Hi,
My name is Dan and you shipped me Baron's Mucho Man. I just felt compelled to tell you what an outstanding animal he is. So agreeable and mellow for a horse just five years old. I would also like to say he is so well trained I was forced to recognize that I wasn't a match for his ability so I have been taking lessons twice a week for the last month for fear I would ruin him. It has worked out very well for the both of us and I ride him almost daily, sometimes ten miles or more. Anyway, he has a fine mind and I get nothing but compliments on him and I plan to show him this coming year. Keep up the good work cause I'll probably be wanting another one.
Thanks,
Dan

Hi Jon and Marywade,
As I promised I am trying to send you some photos of HOTSHOT in his new home in Italy. The first one is him in his paddock with my daughters horse called JK5. The 2nd is of a view from a trail ride from the barn where he is at home.. thus this is the surrounding. The 3rd is with JK5 and the 4th having a rest behind his barn after an hour trail ride.
He is doing fine and when I said thank you I just want to confirm I meant it. Thank YOU!! He is the best friend I have and that is final. I have no words to say more.. this is when feelings take over and believe me I know the feeling…I call him my gentle giant. I hope you are satisfied with his appearance and that I did keep my word when I told you he'd be just fine in his new home and surrounding. Jon, Marywade I am so happy to have met you and proud to say hey… I know them …that's where my horse came from and they are friends…(I hope I may call you my friends)..
Talk to you soon and will send you some more photos. Regards, Shiv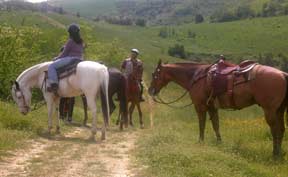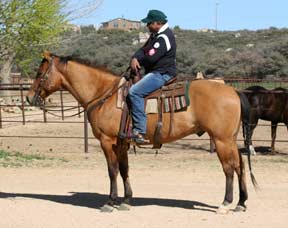 Hi Jon and Marywade! It's Jackie — the lady who bought Spikes Glo Man from you last July. I wanted to touch base with you again to let you know that Spike has worked out wonderfully. He has found his forever home with me. He has been all over with me, including a trip to the Tennessee Mountains last fall. He is such a willing and gentle horse, and I'm so thankful to have had the opportunity to buy him from you. I have been so pleased with Spike, that I am hoping to buy another horse from you. We have a full summer ahead of us, so fall will be a better time for me. I would like another buckskin (mare or gelding) that is steady on the trails, approx. 15 hands or so. Please keep me in mind for another one of your buckskins. It was worth the trip all the way from Alabama to Arizona to find such a quality horse. Thanks! Jackie

HELLO MR. JON AND MARYWADE:
WELL, ONCE AGAIN, THE 2003 RED DUN COLT, MJG SENOR HOLLYWOOD, THAT YOU SOLD ME, OBTAINED THE 2007 DERBY OF CALAS IN MEXICO. AS I EXPLAINED BEFORE, THIS IS PART OF THE CHARRERÍA A MEXICAN SPORT; THIS IS SOMETHING LIKE COWBOYS COMPETITION. AND CALA IS SOME WAY SIMILAR TO REINING. THIS COLT WON THE 2006 FUTURITY AND NOW THE 2007 DERBY OF CALAS; THESE EVENTS ARE RECOGNIZED BY THE AQHA.
CONGRATULATIONS YOUR COLT IS DOING GREAT IN MEXICO.
ROBERTO GARCÍA

Hi Marywade,
I have had Skip ( Bert Skip MacBee) for nearly six months now and I LOVE HIM!
He started out a little boring, but completely trustworthy and safe. Now that he is "settled" and realizes he is home, he has become FABULOUS! He has a terrific personality, a loving nature and is an absolute joy to ride. He will take me over hill and dale, run gloriously through the weeds at full speed with me on his back, or stand and "chill" while I visit on the trail. We went to a "sensory clinic", but he could have taught the class. We had fire crackers, smoke bombs, umbrellas, water pistols, clinking cans, sirens, you name it. Skip thought it was all quite silly. I just wanted you to know how much I appreciate your being there for people like me to trust. I have a couple of friends whose horses are nearing retirement and I hope they will take my advice and shop at HorseBreakers. I will keep in touch as Skip and I try some local speed event shows and maybe a little cow sorting.
Thanks again, Joanne Pritts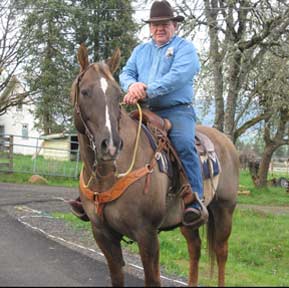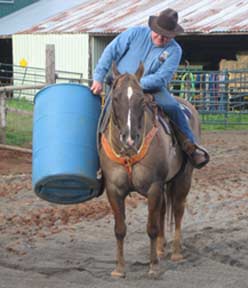 Hi Marywade,
Just an update on "Doc". He is truly the horse you said he would be. I think I will teach him how to type and he can send out my Emails. He is truly that good. Everyone, and I mean everyone, says I can not resell this horse. That he is a real keeper. He runs to the pocket every roping run and gives me a good shot. He handles nice before, during, and after each run. That alone would guarantee him a home for life, but he is also "posse" qualified, and all the posse members are in love with him. Parade season will be a real treat this year, as I will be riding the handsomest horse in the lineup. Barb has asked to ride him on the St. Paul Rodeo Trail Ride. She thinks he is quite a horse also. Just a couple of pictures to show you what you already know. Calm and good looking – the horse, not me. I'll be back for the next horse.
Harold

Hi Marywade
Here is the photo of Chic (One Expressive Chic) and I that I promised you. She is doing fantastic and I just love her. No matter were we go everyone comments on what a beautiful and well trained mare she is. I tell everyone I purchased her at HorseBreakers and direct them to your web site. Thanks again
Linda Searles
PS Chic could care less about the lion and the bear.

Hi Marywade
Just wanted to let you and Jon know how "One Expressive Chic" is doing. Chic is everything you said she was and more. We have been riding quite allot both in the arena and on trail. She is such a good minded mare, unbelievable for a 3 year old. Chic is so sweet with lots of personality and fun to ride, not to mention beautiful.
I also wanted to tell you that buying a horse from Horse Breakers was a pleasure. You and your staff showed me such hospitality, took your time with me, answered all my questions and made me feel right at home. After being away from the horse world for 10 years I was not sure were to start looking for a new horse but once I met you and Jon I knew I had come to the right place. Your patients, honesty and sincere desire to fit the right horse to the right person really showed. I was also very impressed with the training program you have put together. Your non violent methods along with ranch work, taking them out on trail, combined with the fact that you turn your horses out every day and don't keep them locked in stalls 24/7 produces well balance, sane happy horses.
Horse Breakers also has the best web site, your photography is beautiful, your descriptions are right on and you don't over sell your horses, if anything you are to modest and under sell them. Every horse I saw at your ranch was beautiful and so well mannered. I have recommended HorseBreakers to several friend that will be calling you in the near future and I will be staying in touch with you for my next horse. For people looking for well broke good minded horses Horse Breakers is the place to go.
Thanks for putting me back in the saddle again.
Linda Searles
Scottsdale, Arizona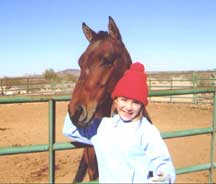 Dear Jon and Marywade,
Thank you for Max (Max Leo Kutter)!!! I love him!!! My favorite part is his side pass and lope. He has such an easy lope. I can make him side pass so I can open a gate when I am on him. He is so gentle. I just love him. He is such a good horse. Thank you so much. Sincerely,
Brandy Fernandez Arlington, Arizona

Hi Marywade!
I wanted to send you a note to let you know how well Spike is doing. I LOVE my horse! I've been riding him, and he is doing great! I love that he is so personable. Sometimes, I think he has a bit of a clown in him and at other times, he just loves to lay his head on my shoulders. He's everything I wanted, and I've gotten many complements on him. Everyone wants to know where I bought him and, of course, I tell them that I bought him from HorseBreakers in Arizona, and that your horses are excellent quality and that you and Jon are two of the nicest people I've met. Thanks again so much!! Jackie

Aloha Marywade and Pamela,
I want to thank you for putting up with me thru the sale of "Cain". The trip over to Maui was a little much for Cain. But I have finally got him to respond and work with me. He is a very loving and personal with me. He probably thought he has died and gone to heaven. He loves his 4 acres of plush pasture and his new friend Zack, a old retired ranch horse. They are good buddies. I ride at least 3 times a week and on Sundays my husband rides Zack and I ride Cain thru the pineapple fields. Cain can't figure out what the smell is. He tried to bite the pineapple bush and got poked in the nose, that took care of his curiosity. He's a lot of fun, especially when I go to the pasture to check on him, he comes running to greet me. He also has discovered guava, and goes crazy over it. We had to cut all the guava trees down because guava isn't good for their gums. I want to thank you again for matching me up with Cain. I don't regret bringing him to Hawaii and I would do it again but only thru you, because of your honesty. Love checking out your website still. Much Mahalo, Michele Cabatingan

Hi Marywade:
Today was the visit to the vet day. This visit was primarily to establish myself and "Tall Larkin Handsome" with this vet and to get his shots and worming started. I was getting just a bit nervous about it because of the old injury (which hasn't bothered Handsome at all by the way). But it was something that was there, and I was wondering what the vet would say about it, just the same.. A couple of things : First and foremost, the old injury site is just as you told me it was.. A scar with a calcium deposit on the cannon bone, with no involvement of any joints. Nothing to worry about whatsoever!! No Xray was needed at all. Then the Dr. asked me when and where I got Handsome from. I told him HorseBreakers in Arizona. He smiled and said, oh, you went to one of their Sales? I said, no – I bought on a private treaty. He then went on to say what a top notch ranch HorseBreakers Unlimited is and that your stock is the very best he has seen. He told me he has purchased 3 of his roping horses from you, and has attended several of your sales. I was THRILLED to hear this. His name is Ron Lenhart. Horse owners from all over Southern California come to him. I went to high school with his wife, Toni! I was so elated to hear he was familiar with you. He asked me how I learned of HorseBreakers, I told him via the internet, that I had been sold on your stock for a couple of years, and saved until I could afford to buy, as I only wanted to buy from you. It is terrific to know my vet, the one I will entrust with the care of my horse, is also a satisfied customer of yours and I didn't even know it until this morning.. The next thing he mentioned was the absence of your brand. He told me a horse with a brand from as good a ranch with a stellar reputation as HorseBreakers increases the horse's value quite substantially. I told him I truly wanted the MJG brand, and that you were going to brand him but ran out of the liquid nitrogen and couldn't get any in time before he left. I mentioned to him you had told me to come back and ride with you anytime and we would get him done then. I also said to him how extremely proud I would be to have my horse with the brand. So, after hearing this, I really want to bring him back for a weekend of camping and riding and get him branded then. I would like to make this a priority for me come the fall. Marywade and Jon – thank you, thank you, for having terrific horses.. Every single horse on your ranch is special and it shows in how wonderful they are treated, trained and taken care of. I couldn't be more pleased with having Handsome (Shiloh) as my horse and having purchased him from you makes me feel like I am on the top of the world !! May God Richly Bless you – because you certainly have richly blessed me!! Many carrot hugs and loads of love..
Sheila Reiboldt
Apple Valley, CA

HELLO MR. JON:
JUST TO INFORM YOU THAT MJG SENOR HOLLYWOOD A 2003 RED DUN COLT THAT YOU SOLD ME, COMPETED THIS PAST MONTH IN THE 2006 FUTURITY OF CALAS IN MEXICO AND OBTAINED THE FIRST PLACE.
IN MEXICO WE HAVE THIS SPORT CALLED CHARRERÍA AND DURING THIS EVENT THERE ARE TWO ACTIVITIES THAT ARE RECOGNIZED BY THE AQHA. CALAS AND COLAS THIS ARE TWO DIFFERENT ACTIVITIES WHERE THE HORSE IS THE MOST IMPORTANT FACTOR.
CALA DE CABALLO IS IN SOME WAY SIMILAR TO REINING BUT THE MEXICAN WAY.
WELL THIS RED DUN COLT OBTAINED THE FIRST PLACE AND MJG HOLLYWOOD DEZIRE A 2003 BUCKSKIN MARE THAT YOU SOLD ME ALSO, OBTAINED THE FIFTH PLACE.
SO, CONGRATULATIONS, YOU HAVE A CHAMPION IN MEXICO.
REGARDS
ROBERTO GARCIA

Dear Jon and Marywade,
I've been meaning to write to tell you how much we are enjoying Starlight Dillon (Hip #42) in The Buckskin Extravaganza! He made the trip from Arizona to Minnesota without a hitch and the driver said he wished all his horses were that easy going! We have been trail riding several times a week and Dillon is also starting cutting lessons. HE is very cowy! Loves to nail his ears back and knows what to do… just needs to be told how to do it. Simultaneously, I am taking cutting lessons off of our other cutting gelding who has the same grandsire and great grand sire as Dillon. I also took Dillon to a de-spooking clinic for a day and he ended up showing everyone else how to do things! The instructor was amazed with his willing attitude and asked me, "Does he have a brother I could buy?! " He is loving his green pasture 5 hours a day but that will come to an end soon as the snow is just around the corner. Whitney and I were very impressed with the consistency with EVERY HORSE we rode at your place. They were ALL very respectful on the ground. Even though each had their own nuances with gaits and way of moving, they all had a willing, kind attitude toward the rider. Whatever you guys are doing, you are doing it RIGHT. You made our visit a fun and productive one by being so willing to let us ride every horse we thought might work for us. I have to admit my butt was in tough shape that night, but it was worth it!
Thanks again for hosting our last minute visit.
Whitney and Susan Heyvaert Independence, Minnesota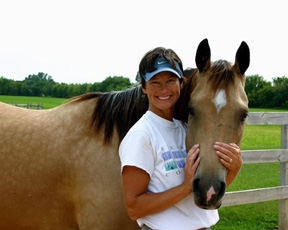 Jon and Marywade
Enclosed is the check for the horse we purchased. Steve and I would like to thank you for everything you have done and are doing to help us with our horses. It is not often that you find people in this business that are willing to help in the capacity that you are. We also thought you would like to know how much we appreciate and enjoy the quality of the horses that we have purchased from you and your sales. We have had others tell us that these are some of the best trained horses that they have seen on the East Coast. We have also been able and more than happy to highly recommend Horse Breakers Unlimited to those who have asked or even called us about your sales. Some inquires we have gotten have been from other areas of the state from people that we do not personally know. It is amazing how "word of mouth" can travel! Please let us know how things are going with Hershey and if there is anything we can do, or should do. Again, thank you for everything.
Sincerely
Diane Strauss of Addison, New York

Hello Jon and Marywade,
I'm not sure if you remember me but I came down with Janette and Rick Ulacco for the Buckskin auction back in August. I had absolutely no intention of buying a horse as I was only there for moral support for Janette and Rick. However, I ended up coming home with My Dazzling Sunshine, hip #71. After that I was hooked on your horses. I couldn't stay off of your website! I then saw Ceco Patty Spur for sale on your site and knew that I had to have her. I drove up that weekend and brought her home without thinking twice. I sold all of my other horses to accommodate these two gems and now have 2 absolutely fabulous buckskin mares in my barn that wear your brand. I'm so proud of these two horses. They have exceeded all of my expectations in every way imaginable. They are solid in body, solid in mind and to top it off they are drop dead gorgeous!
Patty is doing fantastic and I've been taking her on long slow trail rides. She's so brave, intelligent and sweet. This is the mare that will be with me until the end. She's a 2 year old with the sensible mind of a 20yr old. Alison did a wonderful job starting this girl. Hats off to her!!
I just had to touch base and thank you for allowing these two to be a part of my life. I'm sold! When it's time for another horse I will come see you first. You guys run a top notch operation and should be proud!
Thank you, Dawn K.

Dear Jon & Marywade,
I want thank you both, and to tell anyone and everyone who is looking for a good horse for whatever interest they may have, to please look to HorseBreakers Unlimited first.
Here's my story:
I was finally able, at age 50, to fulfill my lifelong dream of learning to ride. I have been taking lessons for two years and have come a long way buy I still consider myself a beginner. I'd had some pretty bad luck with finding a horse that was suitable for me. I had one that was way to much horse for my ability, and the next could barely fog a mirror. I was discouraged to say the least, always searching the ads, and web sites. I followed Jon & Marywade's site for months. Their horses all looked so healthy and well cared for. They seemed to have horses who were people friendly. I popped in on Jon & Marywade one Sunday afternoon unannounced. Now I'm here to tell you that I'm not sure I would have treated someone who did that to me as graciously as Marywade Gilbert did me that Sunday afternoon. I explained to her my ability level and I asked her if she ever had any horses for my ability level and in the price range I was looking, as it was definitely not extremely high. She listened to what I had to say and she went to a Red Roan gelding first. She said, "for what you want to do, he would be perfect." She also showed me three other horses. I made an appointment to ride. I rode all of them, and in the end, felt the very best on that Roan gelding Marywade first showed me. The lady has a gift knowing how to match a horse & rider. I wanted to have "Cowboy" checked by my vet, so Jon Gilbert brought that roan horse to my vet in Chino. He hauled him not once, but twice about 40 miles round trip. He was the epitome of kindness, patience and just a whole lot of fun to talk with. I could not have been treated better if I was buying one of his most expensive animals. If you're looking for a truly good experience in purchasing a fine horse, then you MUST CONTACT HORSEBREAKERS UNLIMITED!
Thank you again Jon and Marywade Molly Schnieder – Chino Valley, Arizona

Jon/Marywade,
My wife, Erin, Buck Naked Cowboy's owner is away in Atlanta. Looking through your site, can't believe how well you put together your horses and a rider. You must be very proud of yourselves???? Paying a whole lot of money to have our acreage leveled and we're bringing the horses home so we can enjoy them at all levels. We have three covered stalls and only two horses, looking for a third horse, older, gentler, so anyone can ride. Let us know if you come across anything, we will only buy from you!!!!!!! Mostest Satisfied Customer, Michael/Erin Hegedus

Jon/Marywade, Recently purchased "Buck Naked Cowboy". Thank you so much for putting together a great horse/rider combination. We are having so my fun with "Cowboy". My wife, Erin, just adores him. Because of your horse, she has the confidence to ride to her best ability again and describes "Cowboy's" ground manners as a perfect gentleman. Thank you…thank you….thank you!!! Looking at some of your other horses, actually some of the more expensive ones. Please don't take this the wrong way, but we never asked if your posted prices were negotiable??? I/we are firm believers in you get what you pay for…just curious??? May be buying another horse…of course from you!!! Michael Hegedus

Hello- We have enjoyed visiting your web site so much that we decided to write and tell you that! We are currently happy with the horses we have, but the next time we are in the market, we will definitely be getting in touch with you. All of your buckskins are so beautiful and look so healthy! As we looked through you upcoming sale catalogue we would change our mind about which horse we liked the best with each new horse we saw and read about!
So thanks again for all your hard work and your beautiful horses. And thanks for updating your web site so often. I check it often and am always happy when there are new photos and write-ups on it!
Warmest regards, Bobbi McIntyre & Debby Stansell

Marywade and Jon, I just wanted to let you know how much we love Kiowa Boon. I was so sad when I lost my other horse in Oct 2003 that I thought I would never find anything like him again. But Kiowa has changed that. He is everything I had before and more. He is so sweet and personable and such a wonderful ride, everything you told me was true and I love him so much. When I buy another horse, HorseBreakers will be the first I call.
Thanks for picking Kiowa out for me, he is a perfect match and just what I wanted and needed.
Thanks again
Shannon Dusek and Kiowa Boon in Tampa, Florida.

Marywade and Jon,
I just wanted to let you know how "Baylie" aka Nu Country Girl is doing. . She is now 4 years old and I'm in the process of finishing her training, and she is coming along wonderfully. She is so soft and responsive, and so unbelievably smart that even though I have been very careful not to push her through her training she learns so quickly, we usually have to move on to something new just to keep her from getting bored. With her excellent breeding, and great sire, she has blossomed into a gorgeous young buckskin filly. She dapples out in the spring and is just breathtaking. Nu Bar Twist would be proud of his daughter… she is athletic, quick, and catty. She has what it takes to be an exceptional cutter some day. Wrap all that up with a wonderful personality and call it heaven. I just can't thank you both enough. She is definitely a dream come true for me. I am so happy that I found your website, and spontaneously decided to drive out from California to look at that dun gelding you had for sale…..and instead left with a 2 year old filly named Nu Country Girl. She has filled my heart with so much joy. Thank you for keeping me on your mailing list for the upcoming sales because I still have 1 empty stall in my barn 🙂
Take Care,
Krista Farmer (Rogers)

Just wanted to let you know how Comet is doing. We all just love him. And Jon, Ben said to tell you he heads and heels. He is the nicest horse to be around. For all of us. He has become a favorite. Ben couldn't be happier. See, Marywade, I told you that you are physic, and know how to put the right horse with the right person. Jayel is doing so well in training as a heel horse.
I will send pictures soon. Judi Barazza

Congratulations on another wonderful Buckskin Sale. My sister and I brought our husbands a trailer this year. We've met a lot of great people in the 2 years that we've attended your sales. The trainers are very helpful and encouraging and all of our questions got answered. The best part is the quality of your wonderful horses. My sister and I took the 4 year olds out yesterday that we bought and they were great. My sister was even riding hers without any bridle !! We've bought a total of 6 horses from you within the past year !! and there isn't a flaw in the herd 🙂 I can't relate to you the joy these horses have brought to my heart and my family. Thank you for everything.

"My husband and I just bought a horse from Jon and Marywade – JACK SAN GO. As someone who has looked at their site for over a year and at all their beautiful horses, I can tell you it is worth the trip! I had something very particular I was looking for. They listened to my requests and had 5 horses for me to look at when we got there! What a hard decision. We narrowed it down to two and really struggled with our choice. Their horses are REALLY that nice. Alison took us on a trail ride with our two finalists and we made the decision from there. I am STILL trying to talk my husband into getting the other. We will definitely buy other horses from you. As a matter of fact, you'll be the FIRST place we look. The horses are EXACTLY what you say they are." – Haley Recio, Santa Rosa, California

"We've had CODYS YELLOW DOC for a month and he is a wonderful horse. He is calm, personable and is exactly what my husband needed for riding. His training shows every time Rich takes him out for a ride. They are getting used to each other and are having a great time. Thanks for steering us to the perfect horse. When we need another horse, we'll be back!" – Stephanie Robertson, Gilbert, Arizona

"I really didn't come up to Prescott to buy a horse, but after seeing and riding "Red Hot" I figured I had to have him. I've already taken him on a short trail ride in the Tucson Mountains and he did just fine. Hard to believe he's a two-year-old! Alison did a great job of setting this colt up right. You must be proud to have her on your staff. My biggest problem will be keeping my daughter from putting him in the SAQHA circuit!" – Bob Westerman, Tucson, Arizona

"Gambler has continued to be the great horse you all knew he would be. As an added benefit he has turned out to be a great berm horse. That would be the first horse through the berms of snow left on the side of the roads by the graders. Some of them are up to the horse's belly but ole Gambler just trudges on through. And when Gambler is out in the pasture by himself and is ready to come in, he'll nicker to you. But, if that doesn't work then he goes and rings a cow bell that hangs on the fence. This bell is used to call the horses to the gate but he uses it to call the humans to the gate. Gambler has truly been a delight in my life and I again must thank you all for the time and effort you put forth for my new horse. – Robin Holm, Anchorage, Alaska

"Many thanks for the hospitality, advice, and especially for VAN MAC. He was born to come home to us and is already an assertive member of our herd. It was a real pleasure dealing with you all. Another business venture in the future wouldn't be out of the question! – Stacey and Jeff Holdcraft, Tucson, Arizona

"Anyone with common sense would say that you should never buy a horse unseen from over the internet. My husband thought I was insane, but I just had this "feeling," and am I glad I did! SHEIKSON arrived just the other day in perfect condition and just as beautiful as his pictures. He is sweet and wonderful to ride – exactly the horse I wanted. Thank you so much for the help. SHEIKSON has a home for life!" – Linda McCabe, Pewaukee, Wisconsin

"I have to say THANK YOU, THANK YOU, THANK YOU for the two horses my husband and I bought from you. "Hank" and "Sam" are exactly what you said they would be. Both are gentle, people-friendly, well-trained, and willing to please. You run a first-class ranch. You made us feel right at home and helped us find horses that have worked out great for us. I wouldn't hesitate to buy off your website without ever seeing the horse in person." – Sue and Ray Powell, Chandler, Arizona

"What more can I say but Thank You for selling us a wonderful horse for the whole family. My two girls also ride him, even if he was my Birthday present. I wanted to let you know he settled right in with our other three horses. We will always be grateful. He is the best present I ever had!" – Susan McCoskey, Oro Valley, Arizona

"I just wanted to write and let you know how pleased I am with Kid. He is being ridden about 5 days per week and is performing unbelievably. Everyone has commented on what special horse he is and no one can believe he is a two year old. He does great on the trail and is learning every day. I was really surprised to see him at my barn the day he arrived. He was clean and calm and had obviously been well cared for during his transport to N.C. So many people have inquired about where I found him that I put your card on the bulletin board. Thank you again for such a great and beautiful Buckskin. He is exactly as you said." – Ron Rogers, Raleigh, N.C.

"It has been 6 months since we bought BUCK SHOT from you and I must say that Terri, my wife, who had a bad horse wreck a few years back, was hesitant about riding again. She has found her passion for horses once again! Thanks to the both of you. When I e-mailed you I took a shot in the dark. I didn't think she would ever ride again.
"BUCK SHOT is all you said he was and then some. I do search and rescue for the Maricopa County Sheriff's Dept. and since BUCK SHOT, now we both do it. You don't know how happy Terri is with her new-found friend, and this is why I write to you today to let the both of you know you hold a special place in the hearts of both of us.
"Price is no trade off for happiness and that's what you have done for us. Once again thanks a lot and you can bet that when we buy our next horse we will look no further than HorseBreakers Unlimited – the only place to buy quality horses." – Bob & Terri Pughe, Peoria, Arizona